Right, tomorrow night is the BIG ONE, the Oscars. The royalty of awards shows.
For the second year in a row, Adam Driver has got a nomination.
Last year it was for Best Supporting Actor in BlacKkKlansman and this year it is for Best Lead Actor in Marriage Story.
He's up against Antonio Banderas, Leonardo DiCaprio, Joaquin Phoenix and Jonathan Pryce.
Predominantly, the actors who win both the Golden Globe and the BAFTA, usually go on to win the Oscar. This year, they have gone to Joaquin Phoenix.
However, there are rare instances when the Academy surprise us with bucking the trend and going for the underdog.
So, I suppose I am still holding out a little bit of hope for Adam.
If you read my blog regularly, you will know that Adam's competition throughout this awards season has been Joaquin Phoenix for his performance as The Joker.
I have done some number crunching today and as of today, the 8th Feb, the statistics for this years awards season look like this.
Adam has 59 nominations.
Joaquin has 49 nominations.
Adam has 38 wins.
Joaquin has 17 wins.
So, not only does Adam have 10 more nominations than Joaquin, he also has a 64% win ratio as opposed to Joaquin's 34% win ratio.
In my eyes, this is quite telling.
The industry quite obviously rates Adam's performance above that of Joaquin's, but sadly, when it comes to the Academy voters, they will quite often take into consideration, past history of nominations and back catalogue of work. They quite often think… 'it's about time this guy won' and will brush aside new talent that probably deserved that win more, simply because they haven't 'done their time' in the industry yet.
They might surprise us this year, but I'm really not holding my breath.
So I am going to concentrate by efforts on the red carpet instead.
Everyone concentrates on what the ladies are wearing, and to be completely honest, the fashion choices this year have been very dubious, particularly at the Golden Globes.
Anyway, bitching aside, the men have started coming out of their shells a little bit and we are occasionally getting and little more colour and a little more daring showing up on the red carpet.
Now Adam ALWAYS looks good in a suit, but he has played things very safe lately with the simple black tuxedo's and last week's BAFTAs was no exception. It may have been Louis Vuitton with Louboutin shoes, but it was still just black.
Such a shame, because when he wears a little colour, it really makes him shine!
There is of course, only one KING of the red carpet at the moment, and that is of course, Billy Porter!
He broke the mould at the Oscars last year by just being himself, and it was the most glorious suit/gown on the carpet by far. (and a finger to the haters)
He has proved, time and time again, that the ladies have some fierce competition.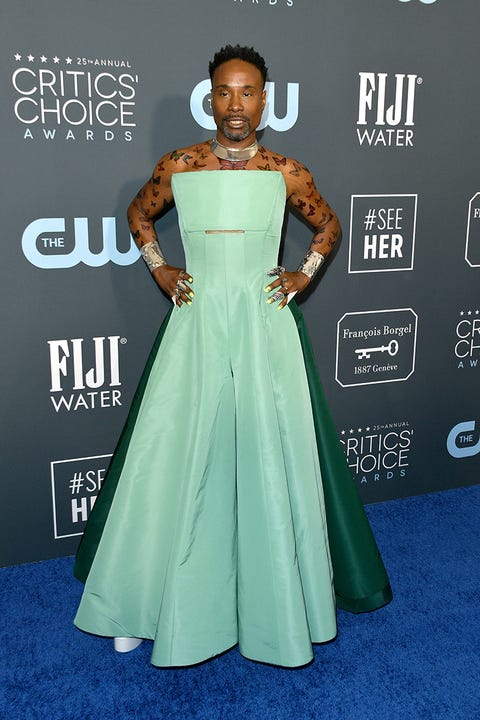 My prediction for tomorrow evening is that the ladies will continue to disappoint with their ugly choices, Billy will steal the show with something fabulous and Adam will again be in black!
Watch this space (I will try not to be too disappointed)