The weather has been absolutely amazing the last few days.
I'm currently sat in the coolest room in the house at 8 am and it's already 28.5 degrees.
I barely slept last night as it was just too hot and sticky, and then this morning we had lovely little thunder storm.
I'm not complaining though. It's nice to finally have a good summer. The last couple of years have been a bit of a 'blink and you'll miss it' moment.
I'm just hoping it lasts for when me and Ian go off to London for a few days in just over a weeks time.
Anyway, after the thunder storm had started, there was no chance of a lay in, so here I am, sat on my computer with my morning cuppa and contemplating the day.
I have a lot to do today. It's payday.
I've already paid the bills. I now need to do a big shop for food for the week, and then I have to nip into Milton Keynes with one of the kids because they want to check out the new Primark, and then I'm off out for a quick dinner with Ian and Murron before we head over to a pub Murron is gigging in tonight.
I have no weekend this weekend.
I will be working 2 x 12.5 hour shifts in a full uniform and on a stifling ward.
So I'm napping a quiet hour to myself now.
I've just had a look at Adam Driver's IMDB page for an update on what he's up to.
If I don't include Star Wars in December, he has 3 more movies all due for release over the next year.
The Report
Adam plays Daniel Jones.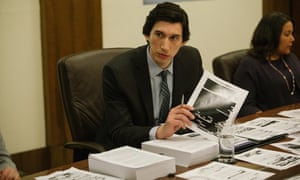 It's based on fact and set just after the 9/11 attacks.
Adam plays a senate staffer who undertakes building a report on any potential abnormalities in how the CIA interrogated terror suspects after Sept 11. He has to deal with millions of documents and takes 6 years to prove major discrepancies and acts of extreme brutality.
The film premiered at the Sundance Film Festival earlier in the year and has garnered some amazing reviews, with The Guardian stating that "Driver is a total natural with often difficult, demanding and intimidatingly wordy material and like the script, he's similarly unflashy and unquestionably convincing as a man doggedly following through with his convictions with so many of his info-stuffed monologues deserving quiet applause."
This one is due for release on September 20th here in the UK.
Marriage Story
Adam plays Charlie.
This one is in post production and is directed by Noah Baumbach.
It has been shrouded in mystery since it was announced and we have only just been given it's official title and this first official image.
Starring Adam and Scarlett Johansson, it apparently follows a couple going through a divorce. That's all the info we've been given so far!
It is having it's premiere at the Venice film festival in September, but as yet there are no general release dates for anywhere else.
Annette
Adam plays Henry.
This film is in pre-production and actually sounds very different from Adam's usual style of film.
There are no pictures yet and Adam's co-star is Marion Cotillard.
The story is about a stand-up comedian and his opera singing wife, who have a 2 year old daughter with a surprising gift!
There is absolutely no more info than that and no idea of any kind of release date, but it sounds like an intriguing one!!
But of course, the film I am itchy to see at the moment is Star Wars.
The countdown on my blog site has been agonisingly slow and I'm trying not to think about it.
I want to savour this one.
Right, time to get cracking with some work.