Yesterday I went to see 'Ready Player One' at the request of one of my daughters.
I can say that I haven't really been on the ball with this one.
Apart from seeing the trailer, I really haven't read much about it or researched anything to do with it, so I wasn't all that fussed about going to see it.
I didn't even know that Simon Pegg was in it!
I certainly didn't know that Ben Mendelsohn was in it!!
OK, interest piqued!
So, what about the film?
It was amazing!!
Loads of action with beautifully imagined and executed scenes.
A strong message about getting noses out of phones and tablets and computers and games and actually living in the real world!
But what actually makes the film great is the nostalgia.
The music in particular was brilliant and I just had to make a Spotify playlist with as many as I could find. If you have spotify, you can check it out here.
References to films, games, comics, TV shows, in fact ALL popular multi-media are littered through the entire movie. When the Bluray is released, there are going to be millions of people pausing scenes to catch all the different Avatars used in all the scenes!!
Trust me, there were so many I missed, I would probably have to watch it a dozen times to catch them all.
We're talking….. big breath……
Minecraft.
The Joker and Harley Quinn.
Batman.
The Delorean from Back to the Future.
A Rubiks cube renamed 'The Zemekis' cube after Robert Zemekis, the Director of Back to the Future and that allows characters to travel back in time by 60 seconds.
A Light Cycle from Tron.
Jurassic Park.
Several references to Star Trek.
King Kong.
The Iron Giant who in turn references Terminator 2.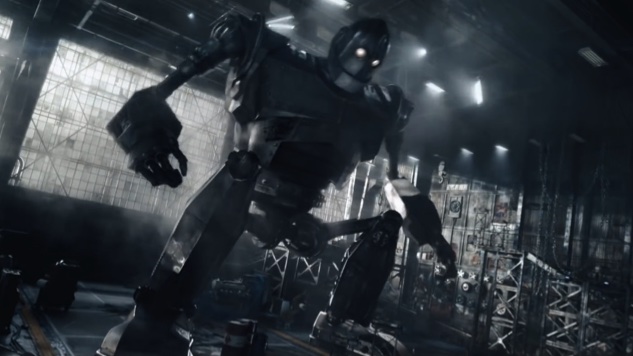 The chestburster from Aliens.
Battlestar Galactica and the Sulaco from Aliens.
Superman, Spiderman, the Incredible Hulk.
Star Wars.
War of the Worlds.
Bill and Ted.
Beetlejuice.
Dungeons and Dragons.
The Fly.
The Dark Crystal.
Gremlins.
Excalibur.
Ferris Bueller.
The Breakfast Club.
Nightmare on Elm Street.
Chucky.
Speed Racer.
Citizen Kane.
Mad Max.
Duran Duran.
Buckaroo Banzai!!
The Shining, with some of the funniest refs and scenes.
Loads of Atari 2600 games like Centipede, Swordquest, Pitfall, Motorcross and Adventure.
Saturday Night Fever.
Jason and the Argonauts.
The Spaceship Serenity.
I could go on forever. There are literally hundreds of references, mostly in mentions and seen as avatars that are literally only going to be noticed on multiple viewings or bluray pauses.
The whole film is a visual feast and I think I could quite happilly go and see it in the cinema again.